---
Updated 11 days ago
---
Ethereum · Metamask · DAO / Community · Defi · L2 · Liquid Staking · Infra / API · Althea · Token Curated Registry · M2M Payments · AltheaEVM · Networking · Electric Vehicles · Governance · ERC20
Updated 11 days ago
Ethereum · Metamask · DAO / Community · Defi · L2 · Liquid Staking · Infra / API · Althea · Token Curated Registry · M2M Payments · AltheaEVM · Networking · Electric Vehicles · Governance · ERC20
Vision
EV charging made hassle-free via M2M payments
Description
Electra is a revolutionary blockchain-based M2M (Machine-to-Machine) payments platform designed to simplify the electric vehicle (EV) charging experience. Unlike traditional methods, Electra offers a seamless and user-friendly solution that allows individuals to join the network through their EV charging station or electric vehicle. Here's how it works:
User-Friendly Onboarding: Electra offers a hassle-free onboarding process. EV owners can easily sign up for the network using their EV charging station or electric vehicle, eliminating the need for complex registration procedures.
Effortless Charging: Once onboarded, users can effortlessly locate nearby charging stations through the Electra platform. This ensures that EV owners can find convenient charging points whenever they need them.
Automated M2M Payments: Electra streamlines the payment process. Users no longer need to deal with cumbersome payment methods. Instead, the platform automates M2M payments every time a charging session is completed. This ensures that users are billed accurately and promptly for the electricity they consume.
Income Generation: Electra empowers EV charging station owners to monetize their assets. Users have the option to lease their EV charging stations to the general public, earning ElectraCoins as a form of compensation. This innovative approach transforms charging stations into income-generating assets for their owners.
Decentralized Governance: Electra's governance is decentralized and community-driven. The network is managed through a DAO (Decentralized Autonomous Organization), ensuring that important decisions are made collectively and transparently by token holders. This democratic approach ensures fairness and inclusivity in network operations.
Tokenized Registry: Electra takes advantage of blockchain technology to tokenize the registry of chargers. Each charger is represented as a unique token on the blockchain, making it easy to manage and trade assets within the network securely.
Deployed Contracts: AltheaEVM
ElectraTokens: 0x5d597ca122C689aF8B48a750a95D8676CD001C94
Governor: 0xc378e7921C219Af49c4D2E2a59dcc930D1BB0351
StationRegistry: 0x01cc41A3E23b4906Ea9Dca417091f695398e2150
Timelock: 0xC2066E99BD6b4d6BbEef6dE67CaF8508d1Ad7445
VehicleLedger: 0xFf5C05d1232Ac8b3412C7cD92C0d12D360cb849E
Blockchain Architecture
Smart Contract Process Flow
Electra's innovative approach to EV charging not only simplifies the user experience but also encourages broader participation in the electric vehicle ecosystem. By facilitating automated payments, income generation for charging station owners, and decentralized governance, Electra stands at the forefront of the evolving M2M payment landscape in the EV industry.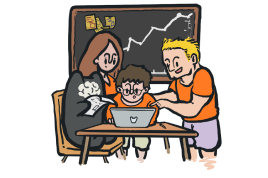 Team Information
Team Member 1 Name: Fabian Ferno Role: Backend Engineer Skills: Blockchain engineering, tokenomics, enterprise software development, distributed systems, data engineering cross-platform apps & decentralized applications. Experience: Fabian previously co-founded Pattarai (pattarai.in), one of India's largest technical talent pools to build an engineering community in colleges across India. He has conducted more than 40 events and mentored more than 35 projects in various domains like IoT, Fabrication, Web3, SDE, etc. Fabian has also been involved with "We-Simera"(we-simera.com) - a professional services start-up he founded. They've served clients from Germany & UK for various software development activities. Fabian previously served as the Principal Software Engineer at Dali where he built distributed systems, Web3 integrations & big data analytics. Worked with statistical scoring algorithms & blockchain indexers, enabling data-driven insights. Experimented with various models for AI-enabled analytics. Implemented agile test-driven development. Incubated at IIT Madras Research Park, Guardian Link Web3 Accelerator, and successfully raised pre-seed funding of $150k to support the development of the NFT analytics platform. Currently, I'm Co-founder & Chief Technology Officer at BlitzCraft.
Team Member 2 Name: Daniel Mark Role: Full Stack Engineer Skills: Architecting and building highly scalable internet applications, cloud & distributed computing, internet security, blockchain technologies and data analytics. Experience: He started his career at Stratforge - a B2B Enterprise data analytics company that worked with clients such as Hewlett Packard, DBS Singapore, Alcatel-Lucent, etc. Daniel also served a term as President at Pattarai (pattarai.in) - one of the largest engineering talent pools in the country with over 830 members now, the best of which work at NFTCONOMY. Daniel was previously Co-founder & CTO at Dali - an NFT data analytics company accelerated by GuardianLink that raised over $275K USD in pre-seed financing. Daniel also worked for GuardianLink's C-Suite as an analyst/advisor and generated over $2.25 million in sales for them. He is currently the Co-founder and CEO at BlitzCraft (blitzcrafthq.com) - a Web2 & Web3 Professional Services and IT consulting company based out of India.