---
Updated 108 days ago
---
Ethereum · Polygon · Safe · DAO / Community · NFT · Defi · Social
Updated 108 days ago
Ethereum · Polygon · Safe · DAO / Community · NFT · Defi · Social
Vision
Our vision is to become an infrastructure tool powered by blockchain technology that enables borderless money transfer for all those interested in establishing their own bank-like financial system. In essence, we aspire to be the "bank of everything."
Description
Introduction: BANCOF is a no-code tool designed for both communities and individuals. Our aim is to empower anyone to open an NFT collateralized financial service that includes NFT-backed lending and BNPL (Buy Now Pay Later) options. As a tool, we offer a high degree of customization, allowing users to adjust parameters based on their risk-to-return profile. With BANCOF, both web3 communities and individuals can effortlessly open and efficiently manage their NFT-backed financial services, tailored to their unique requirements.
Key feature
💡No-Code Customization 💡$MATIC-Powered Pool 💡NFT Lending Service 💡Buy Now, Pay Later (BNPL) 💡Social Features
Problem & Opportunity Liquidity is a vital aspect for both individuals and communities holding NFTs. However, traditional methods often require selling NFTs to access liquidity, which can be detrimental to the community. In the case of NFT project, a lack of liquidity may discourage holders from rejoining if they can't repurchase their sold NFT, leading to a decline in community engagement and identity association.
This is where Bancof can help.
BANCOF enables any NFT communities to manage their own liquidity by creating and managing internal loan services. With Bancof, communities can preserve the value of their NFT assets and avoid the need to sell them during periods of low liquidity. This community-driven approach ensures that the value of NFTs is protected while providing accessible liquidity options for individuals and the community as a whole.
How it works?
BANCOF operates as a tool provider with a pre-deployed implementation contract that can be utilized by any party. When a user chooses to utilize BANCOF and create a liquidity pool, they deploy the proxy contract, and the smart contract owner becomes the entity that initiated the pool. This grants the owner complete control over the pool, including the ability to initiate, pause, stop the loan service or BNPL service, and modify the policy. Moreover, BANCOF has a Peer-to-Pool mechanism
What does BANCOF offers?
✅ Complete control over the pool, including the ability to initiate, pause, and stop the financial service, manage fund deposits, withdrawals, earned interest withdrawals, and defaulted NFTs. ✅ Customization of every parameter, providing the flexibility to edit and modify settings at any time. ✅ Customizable appearance to align with the users' brand identity, allowing customization of colors and appearance modes.
So, who is using BANCOF?
Bancof is a no-code pool generator tool designed for Web3 natives, serving as the foundation for loan services and BNPL offerings. It is a permissionless tool suitable for a wide range of users, including individuals, NFT Collecting DAOs, and NFT Communities. Here, we provide some case studies demonstrating how users can effectively leverage Bancof as a tool.
👉 Case Studies: How Users Utilize BANCOF
1.Web3 Community Loan and BNPL Service: Scenario#1: A web3 community offers loan services and BNPL options to its members. Solution#1: BANCOF integrates with the community's platform, enabling members to apply for NFT collateralized loans or use BNPL for deferred payments.
2.Individual NFT Collateralized Loans and BNPL: Scenario#2: An individual NFT collector accesses NFT collateralized loans and BNPL services without selling their assets. Solution#2: Using BANCOF's no-code tool, they configure loan and BNPL terms, establishing their loan pool and deferred payment options.
3.Whitelabel Integration for Platforms with Loan and BNPL Services: Scenario#3: An existing web3 platform integrates NFT collateralized loans and BNPL services. Solution#3: BANCOF's whitelabel solution seamlessly incorporates loan services and BNPL options, enhancing the platform's financial ecosystem.
Summary To summarize, BANCOF empowers web3 communities, individuals, and platforms to offer customizable NFT loan services and BNPL facilities, tailored to their unique requirements.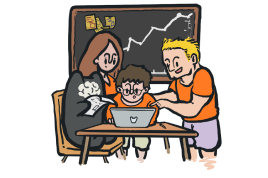 Team Information
Our team consists of passionate Web3 enthusiasts who are particularly focused on the future of NFTs. I, myself, have a background as a UX designer and front-end engineer in Web2 but have transitioned to Web3. My teammate Seunggan is a skilled smart contract developer with extensive experience in the Web3 space. Additionally, we have Tae, our product manager, who brings over 10 years of experience in Web2 and has expertise in building SaaS tools. Together, we form a well-rounded team with a diverse skill set and a shared enthusiasm for the potential of Web3.