---
Updated 114 days ago
---
Polygon · DAO / Community · NFT · Social · Creator Economy
Updated 114 days ago
Polygon · DAO / Community · NFT · Social · Creator Economy
Vision
a no-code platform to create on-chain linkable digital badges and empowering linked NFT digital identities
Description
EMBL3MS is a cutting-edge platform that enables users to create, manage, and showcase linkable NFT badges, revolutionizing the way digital identities are represented and utilized. Designed for creators, collectors, communities, and businesses, EMBL3MS provides a seamless experience for crafting, linking, and displaying unique digital badges that amplify NFT value and foster engagement.
---
---
Founding Story
People have been spending more time connected and online than in real life. This phenomenon has brought upon value to digital identities, especially to people who are into non-fungible tokens (NFT).
We, at Howdy, firmly believe that how we see and use digital identities currently is not fully utilized yet as they are standalone and does not have their own ownership.
EMBL3MS is about to change how we perceive these digital identities through linking them to NFT memories, history, badges and more.
---
Problems We're Solving
We will be an improvement of the POAPs and other NFT badges in the market, which are not utilized to their full potential as they don't bring any value to the very NFTs that founders, creators and communities cherish the most.
Limited branding and do not cater to specific collections per project.
POAPs are tradeable and transferable. Not suitable for NFT memories.
Having lots of wallets and storing POAPs in different ones is not ideal.
POAPs are digital badge but who own them currently — your wallet or your digital identity / NFT?
Friction in creating POAPs. Still needs approval for 24- 48 hours.
---
We Bring You, EMBL3MS
Technical Solutions
Create a new ERC-721 Extension.
Allow EMBL3MS to be linked to any ERC-721 NFTs you have.
Utilize Polygon network's scalability, speed and cheap transaction gas fees.
Create a no-code platform to freely create EMBL3MS with less friction than POAPs.
---
Product Goals
Your NFT digital identity will own other NFTs. Wherever the main NFT goes, the linked EMBL3MS go.
A way for projects to incentivize their holders and increase its perceived value.
Give a new sense of prestige, exclusivity, engagement and brand loyalty.
A better interoperability on open metaverses and open systems.
---
Sample Use-cases
Events Attendance
Achievements Tracking
Brands & Partnership Badges
Education & Certifications
Loyalty Programs
Team or DAO affiliation
Ambassador Recognition
Digital Passports / Identity Cards
Challenges & Competition
---
The Process
---
For NFT Creators & Founders,
Pay and deploy your EMBL3MS collection through our no-code dApp smart contract deployer.
Add Whitelisted Addresses of your community members who'd be eligible to mint and link the EMBL3MS to their NFT.
---
For Community Members & Holders
If the community member is whitelisted already, they can start minting & linking the EMBL3M to their NFT of choice.
---
Future Plans
Marketplace Integration: Display the EMBL3MS count per NFT and be able to click on the EMBL3MS count and redirect to the EMBL3MS explorer.
Create a shareable EMBL3MS Circle Interface: Allow holders to see a "Twitter Circle-like " interface and be able to share on socials all the EMBL3MS attached on a single NFT.
---
Revenue Model
Minting Fee for EMBL3MS
Events Management
Brand & Community Partnerships
White Label Solutions
---
Together, we'll empower digital identities through EMBL3MS.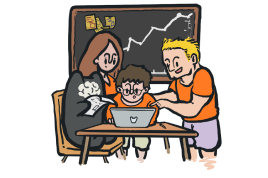 Team Information
Harvey - Blockchain Developer Lorence - Product Manager Vince - Frontend Developer Anjo - UI/UX Designer