---
Updated 167 days ago
---
TRON · ReFi
Updated 167 days ago
TRON · ReFi
Vision
Open Marketplace for Procuring Used & Recycled Plastics Online
Description
THE PROBLEM
Up to 9.948 tons of plastic waste in Uganda is uncollected annually, according to a study conducted under the GKMA PET Plastic Recycling Partnership. 11 percent of this ends up directly into water bodies. According to research conducted by the World Climate School's Uganda chapter, more than 75% of used plastic bottles end up in landfills, lakes, and rivers, which is seriously damaging to the environment.
This problem is not peculiar to Uganda alone. Most African countries, as well as most parts of the developing world, face similar issues.
It is not uncommon to find plastic waste (and other forms of waste) littered in public places. Most waste collectors barely earn a living wage, as they only sell to middlemen who pay them ridiculously low amounts. Also, many individuals are not incentivized to properly recycle waste, and litter them indiscriminately. At the same time, companies find it difficult to access reliable sources of used and recycled plastics, due to limited supply of properly collected waste materials, and the lack of proper infrastructure for collection and cleanups.
EcoMarket wants to incentivize recycling and clean storage of used plastics, and also provide companies with reliable and transparent sources of recycled materials.
THE SOLUTION
EcoMarket is an open marketplace that directly connects buyers of used and recycled plastics with individuals and businesses who want to donate or sell them.
Visit EcoMarket at https://www.ecomarketapp.xyz
To use the platform, companies that need recycled materials can request for these materials, and stake TRON (equivalent to the quantity of recycled or used plastics required) in a smart contract-powered escrow.
Recyclers & collectors are then notified of the company's requests, and can gather plastics, deposit them in a collection center, and earn rewards from the TRON escrowed by the company, after a 48-hour cool-down period.
Each request and dropoff is weighed and recorded with picture proof, and recorded on the TRON blockchain for traceability and verification.
In the future, apart from the tokens earned, organizations who participate in the marketplace earn the EcoCredit NFT, a signal of their commitment to environmental sustainability.
While EcoMarket is free for now, for the future, we plan on EcoMarket receiving a tiny percentage of the total amount disbursed for each request.
THE BENEFITS
Individuals can earn extra income for collecting waste plastic with TRON.
Organizations can easily access a reliable source of waste, and at the same time empower low income earners in developing societies.
Recording the dropoff on the blockchain enables the verification and certification of used plastics for organizations' supply chain.
Decentralized: The EcoMarket escrow is fully decentralized & powered by a smart contract. Whenever a dropoff has been verified by both the recycler and the company, the recycler can claim their rewards. In cases where the order is not fulfilled, the smart contract automatically processes returns to the company's wallet address.
HOW IT WORKS
Watch the EcoMarket Demo Video
As a Company
On the EcoMarket landing page, click on Get Started, and select Company.

Connect your TronLink wallet

As a new user, you're required to set your profile.

Lock some TRX in your escrow wallet, which will be used to automatically pay out rewards to collectors who have successfully delivered the plastics.

You can also withdraw from your escrow wallet, any amount not currently locked in any ongoing offers.

Go to your Dashboard, and create an offer.

An offer is a request for plastics to be delivered to a specific collection center in a particular locality. Enter your offer details, including the amount, quantity required, etc...

Once an offer is created, you will not be able to withdraw from your escrow wallet any amount locked within the offer.

This offer is then broadcasted via email (and in the future, SMS) to all collectors within the locality of the collection center you've selected.

Once collectors have indicated interest, you'll need to approve each of their delivery requests. You will sign the approval with your TronLink wallet.

After approval, once a delivery has been marked as complete by the collector, you can view the details of their delivery, including the proof of delivery.

Once completed by the collector, as the company, you have 48 hours to raise a dispute (work-in-progress).

If you raise a dispute, the collector will be unable to withdraw the tokens.

If no dispute is raised, the funds will be withdrawn from your escrow and deposited in the collector's wallet.
As a Collector
On the EcoMarket landing page, click on Get Started, and select Collector.

Then, connect your TronLink wallet (in the future, collectors will be able to create accounts with just their emails or social accounts).

As a new user, you're required to set your profile. As a collector, you will also need to select your location from one of our supported locations.

Once a new offer has been sent by a company for delivery within your locality, you will be notified via email. You can also visit your dashboard to view these offers.

View the offer details, and click "Fulfill Request" to indicate your interest. Enter the quantity of plastic you'd like to deliver.

The company will be notified, and can then approve your request.

Once approved, go to the collection center and deliver the plastics. Upload proof as part of your delivery.

After a cool-off period (48 hours), if no dispute has been raised, you can claim the funds for the delivery within your escrow wallet.
A deep-dive into EcoMarket's features, application architecture, and roadmap can be found in the following Notion doc:
https://phantom-iguanadon-2c7.notion.site/EcoMarket-HackATron-Documentation-2c52e072063e4a74a015e0fc70d70702
MVP FEATURES FOR HACKATHON
Connect Wallet (via TronLink)
Set up Profile SET-UP for companies & recyclers
Company Escrow Wallet, including Top Up & Withdrawal features (of TRX tokens)
Offer creation by the company
Offer Fulfillment by Recycler, including recording & uploading proof of dropoff
Recycler Wallet, including Withdraw functions.
Cool-off Period (after which reward can be claimed by the recycler if there is no dispute).
Disputes, which can be raised by the company if drop-off does not match the offer criteria.
Claim Rewards (by the recycler, after cool-off period has elapsed without dispute)
POST-HACKATHON ROADMAP
Q2 2023
Performance optimizations (pagination, lazy-loading, etc).
Launch on Tron mainnet
Integrate Web3Auth for easier sign-up for collectors, most of whom may not be crypto-savvy.
NFTs — If a company's offer is 100% fulfilled before the expiry date, the company would earn EcoCredit, a digital collectible that showcases the company's commitment to eco-friendly initiatives.
Outreach & Education Initiatives (in schools, marketplaces, and universities)
Enable offer creation & deliveries for other scrap types (metals, batteries, etc)
Q3 2023
Conversion of TRX to stablecoins for easier off-ramping for customers.
Admin Portal for platform management
Decentralized verification for Company & Collector
Token-based Governance Model, DAO
Dispute Management Portal
Q4 2023
Supply-driven Marketplace (where a user can upload plastics, or other scrap items available for sale)

a. Amount Negotiation (allows the company rep. to negotiate the amount for items uploaded by the recycler)

b. Recycler-Company Chat

c. Request for Samples (companies request for samples from recycler)

d. Suggested Pricing

One-on-One Matching (match companies with recyclers directly)
The Future
Recycling Facilities & Centers
THE CODEBASE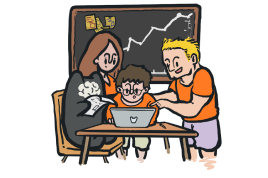 Team Information
Team EcoMarket
We are a team of tech professionals passionate about ecology and efficient waste management across Africa.
Darabong - Project Manager
ChainBuilder - Backend Developer
DreWhyte - Blockchain Developer