---
Updated 87 days ago
---
Ethereum · BNB Chain · Solana · Polygon · IPFS · Bitcoin · Avalanche · Polkadot · Moonbeam · Moonriver · NEAR · Algorand · Gnosis Chain / xDAI · Arbitrum · Optimism · Boba · Celo · Evmos · Infura · Chainlink · Defi · Infra / API · ZK · Crosschain Infrastructure · Wallet · DID · Naming Services · Identities · MPC · Router Protocol · Aave · Quick Node · Alchemy
Updated 87 days ago
Ethereum · BNB Chain · Solana · Polygon · IPFS · Bitcoin · Avalanche · Polkadot · Moonbeam · Moonriver · NEAR · Algorand · Gnosis Chain / xDAI · Arbitrum · Optimism · Boba · Celo · Evmos · Infura · Chainlink · Defi · Infra / API · ZK · Crosschain Infrastructure · Wallet · DID · Naming Services · Identities · MPC · Router Protocol · Aave · Quick Node · Alchemy
Vision
Avex is an identity wallet to control all your finances and data at one place.
Description
Avex has implemented Router's Omni-chain contracts for cross chain swaps, bridging, cross chain lending/borrowing and advanced send functionalities enabling users a seamless transfer of assets across different networks.
Few benefits for using Avex are:
.avex Handles : The .avex handles are free of cost and truly chain agnostic. Which means users can have a unified blockchain experience with just one handle across all blockchain networks. This also eliminates the usage of clunky public keys.

DID Container : Every user has a unique DID associated with their account where users can store all their data, which is stored in IPFS in an encrypted format.

Crypto Wallet : The crypto wallet is carefully designed to eliminate all blockchain difficulties and make the onboarding for a normal user very easy. Below are the few benefits of using the Avex Wallet:
Chain Agnostic - Supports 14 blockchain networks, with support for more coming soon.
*Transaction Readability and Scam Detection *- Transaction manifests are presented in a human readable format, while protecting users from signing any suspicious and scam smart contracts.
Lending and Borrowing - Lending and borrowing assets across all blockchain networks.
Cross chain swaps and bridging - Perform cross chain swaps and bridges of all assets (tokens and NFT's) using Router's Omni-chain contracts.
Advanced Send - This is an innovative feature which would help onboard many users to the web3 ecosystem. Through this the recipient would receive their requested token in the requested chain regardless of the senders balance. (i.e, if the recipient wants 1ETH in Ethereum chain, while the sender has assets scattered across different networks, then the advanced send would automatically bridge and swap tokens and send the recipient their requested tokens while eliminating all the difficult part for the sender).
Security : Avex uses MPC and biometric protection which secures the users from any hacks and also eliminates the need to store seed phrases, all in a self- custodial way.
There are several other benefits of using Avex. Please contact @daakus007 in Telegram to know more.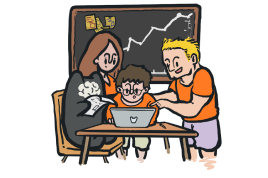 Team Information
Maharsi Patel - (Product Analysis and Research) https://www.maharsi07.github.io Product Manager and Research Intern @Capx.fi (July 2022 - September 2022) Community Manager @Rooba Finance(September 2022 - December 2022)

Deepak Kumar - (Backend Developer) Backend Intern @Intellichains (March 2022 - December 2022) Backend Intern @Capx.fi (July 2022 - September 2022)

Aditya Aggarwal - (App Developer) Dev Intern @SpotSpreads (October 2022 - February 2023)