---
Updated 108 days ago
---
Infura · Infra / API · Social · PolygonOne
Updated 108 days ago
Infura · Infra / API · Social · PolygonOne
Vision
Putting your identity and network in the palm of your hands.
Description
What is POM?
---
POM is a Polygon blockchain-based digital passport (my DID wallet), used to share my credentials, such as identity and employment history.
Why Polygon ID?
---
Polygon ID + POM app empowers users with self-sovereign identity, which is a digital identity that doesn't depend on a centralized system and is owned and controlled by the user.
What Problems Are We Solving?
---
Who can you trust in web3? - Don't Trust, Verify.
How can you be sure the person you just met really works at that Upbit or Polygon?
Use DID for self-verification without exposing person details
Control - Fragmented networks - Fraudulent Activity
How Does POM Solve These Problems?
---
Social Proofs: Users can build a more trustworthy online presence by building a social profile with on-chain verifiable credentials through POM and Polygon ID.
On-chain "Instagram verified badges" or "Twitter blue checks" to prove identity
Profiles are similar to LinkedIn but with verified employment history through Polygon ID
Verified Organizations: POM will build out a network of organizations that will allow users to self-verify their identities. In the beginning, we will focus on acquiring strategic partnerships with web3 companies. Not only does this help with the verification of the individual, but it also puts more trust in the companies where they work. In the future, we can expand this to many other types of IRL organizations, such as local municipalities, academic institutions, and even national services—all of which have the ability to verify identification.
Proof of Meet: Building on the popular idea of "Proof of Attendance (POAP)," POM app expands that concept to IRL and online connections through a new concept, "Proof of Meet (POM)" POM allows users to collect an NFT (we call POM NFT) that represents each user's verified identity and on-chain history of their interaction.
i.e. POAP records which event you visited, POM records who you met at those events
Creates an on-chain history of your contacts - casual and professional networks
Incentivizes organic connection IRL and online
User Types
---
Who is a HOLDER?
Individuals using POM Profile (aka my DID wallet) app to display his or her verified professional profiles

Use POM App
Use Polygon App
Who is an ISSUER?
A verified IRL organization (Coinbase, Binance, Consensys etc.)
Employer, government organization, medical facility, or academic institution
Who is a VERIFIER?
Any individual or entity checking HOLDER's verified credentials on POM
What is Our MVP?
---
POM Identity (POM-ID)
User Profile page on the POM App is connected to the user's Polygon ID to prove the credentials entered in POM.
POM (Proof-of-Meet)
Each verified POM-ID will come equipped with a ERC1155 NFT that will represent each users identity. When connecting with a new user IRL or online. Users will be able to claim these badges to prove their history of meeting; POM.
Go-To-Market
---
Get 1,000 users
IRL events, such as ETHSeoul, Buidl Asia etc
Create and distribute POM tokens

Distribute POMs through Telegram connections (POM Connect)
What are POM's Next Steps?
---
Q2
POM Identity

Google SSO / Apple ID SSO
Web3 Wallet integration

Onboard Issuers

Employment history
Schools or web3 learning platforms - Certificates of completion
Police records (for employee background checks, pre-employment)
Medical records (Got covid shots)
Credit history
Q3
POM Connect

Seamlessly connect across their messaging tool of choice; directly integrated with POM

Proof of Meet Beta
Q4
Mobile app - iOS & Android
POM Contacts

A powerful contact management tool allowing you to easily sort & filter through your network
H1 '24
A.I. exploration

Nudges, follow-up reminders, context providers

Social integrations

Verify and own your identity across other social platforms; ex Lens, Farcaster etc

P2P payments

Send money from to and from your verified users in POM.
Business Model
---
B2B -
Work with foundations to distribute POM at events
Work with ISSUERS to integrate with POM for their DID solution adoption
B2C - Premium Features
POM Contacts

Export contacts to CSV - charge base on use

Premium AI features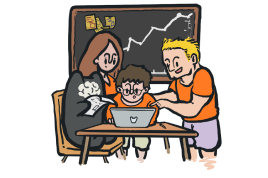 Team Information
Jordan - PM
Shawn - Designer
Vlad - Backend/Blockchain Developer
Mihkail - Frontend Developer