---
Updated 131 days ago
---
DAO / Community · NFT · GameFi · X-2-Earn · Infra / API · Social · Creator Economy
Updated 131 days ago
DAO / Community · NFT · GameFi · X-2-Earn · Infra / API · Social · Creator Economy
Vision
Web3 Edutainment Brand
Description
Play2Learn is a brand focused on developing IRL (In real-life) Blockchain and Crypto Games to educate kids, teenagers, and adults about blockchain technology and increase adoption of it in Africa and globally. Our games are designed to be interactive and immersive, providing a fun and engaging way to learn about this exciting and rapidly growing field. Our goal is to help spread awareness and understanding of blockchain technology and its potential impact on the world while promoting its adoption in Africa and worldwide.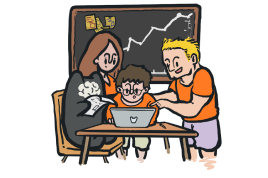 Team Information
Our team comprises intellectual, passionate and serious lovers of the blockchain and cryptocurrency space. With vast knowledge of the entertainment and education sector.
Temitope Gideon Founder- Crypto Pidgin Academy
DAVID UZOCHUKWU ONYILIMBA FOUNDER- David_Onyilimba movies.